I would not think someone would go to the extremes that she went thru to protect someone they did not know, but after reading the many things she has done to Karen DeAngelo who lives her life as a Christian and breeds and sells gorgeous little fur babies, I thought this person is capable of doing anything. This woman needs to be stopped before she hurts anyone else. There have been many others that she has done this to.



another breeder describes her dealings with Sherry...OMG
Recently I got a phone call from a lady who needed to place her adult female shih tzu and I posted it on my site stating I was helping someone local.. VERY QUICKLY Sherry Andrews saw her there, and contacted the owner through the information I had on my site.-.went and got the dog from the lady ,and slapped it up on her site as her "new girl"!!!!! For someone who professes to do such research on the dogs she buys, I didn't see it mentioned on her site, that a "black and white female" came out of our local newspaper and Sherry didn't even have a pedigree to look at when she bought her, (very cheap, as the woman just needed to place her quick is what she told me. PHONY BULLSHIT ARTIST! But I had already lost any respect for Sherry that I ever had after I sold her a puppy with full breeding rights, and after one litter, Sherry had her up for sale on her site. Not even bothering to let me know she was doing it. I called and reminded her that she had agreed not to sell her unless she gave me first option of taking her back.. She said she was "going" to....When? After she passed her on to one of her croanie's?? Well to make a long story short, Sherry had my sweet baby for 9 months, bred her, sold the puppies, and told me if I wanted her back, I could give her what she paid in the first place..
So SHE bred my half grown small baby girl, pocketed the money for a litter, and I got her back hyper, not housetrained, and full of coccidia, which immediately spread to the rest of my Tzu's!...
This woman in my opinion is nothing but a trouble making money grabbing hypocrite...Buyer Beware!
Signed: Linda Balogh
Baloghshih-tzu's.com
1-31-06
It has come to my attention that Sherry Andrews is claiming the dog "Millie" on her site is not the same dog she bought off of my website. Since I cannot prove it is, I will retract what I said in my original post and state the facts that I can prove. Sherry bought a black and white female off of my site that I had posted for a local woman here in the Detroit area that needed to sell her "pet". Sherry saw no pedigree and immediately (the next day) posted her picture on her website proclaiming her as her new "girl"., which is not an awful thing to do in itself, IF YOU DO NOT CLAIM TO DO EXTENSIVE RESEARCH ON YOUR BREEDING ADULTS! Thats a big fat lie, to try and convince the public she is something she is not!!
Sherry didn't know anything about that black and white female when she bought her for breeding, and certainly didn't have time to screen for health issues or anything else before the next day when she went up on her site, it appears to me the extensive research on that female was to ask directions to pick her up and how much she cost!


Another breeder who has been a victim of Sherry ...once again, Sherry follows her pattern of dealing with any conflict and that is to attack with slander, and try to "smear" the person on the net. If that were not enough, she then emails the "victim" to taunt them and to laugh. Form your own opinion of this "breeder" who professes to be Christian and proclaims "God bless Us All" after her slanderous statements, and "Have a Nice Life" after her taunting emails to her victims... what a hypocrit.

From: Maria
Sent: Thursday, February 02, 2006 5:27 AM
Subject: Sherry Andrews
Hi there,
I am writing because I too have also been a victim of Sherry Andrews. About two years ago while breeding Shih-Tzu's, I sold a puppy to someone in Richmond, New York (I am also from Upstate New York), who convinced me it was for her daughter, who had only one cat and loved the puppy I had posted on my website. They seemed very nice people when I met them to deliver their puppy. After talking numerous times over the phone, she expressed interest when I let her know that I was retiring out of breeding the tzu's and was trying to place two of my adult females. In the meantime, I had a beautiful gold female puppy she also wanted to buy. I let her know that they were to go to non-breeding homes only, and she agreed. We agreed to meet in Syracuse New York at
the airport to avoid my driving 4 hours to her place, and she never showed up. I was there at nine in the morning, but she wasn't. When I called her at home, she was still in bed.....she claimed we were "supposed" to meet at nine o clock at night. To make a long story short, I left the puppy at my good friends home and told Rose that the puppy would be there, at a GOOD friends home. That apparently inconvenienced this mother and daughter con team, plus the fact that I changed my mind on the adult female because my husband was attached to her, and that is when everything started.
Not too long after, I get a phone call from a woman in Alabama, who I ultimately made friends with, making me aware of the page dedicated to me as a puppy miller. I NEVER heard of this Sherry Andrew before this. What must have happened is that this mother daughter con team were friends with Sherry. Sherry went so far as to call me a puppy miller, saying I had dead and diseased dogs and puppies, and mentioned my name in ripoffreport.com and thecomplaintstation.com. I asked Sherry to remove the material, very similar to the slander pages dedicated to Karen D'Angelo, and she wrote back that she will write as she pleases, since it is her site.
In my opinion this Sherry Andrews is a severely disturbed individual who should relearn the basic golden rules....do unto others as you would have them do unto you.
Sherry's version? Do unto others before they do unto you because I want to.
A really disturbed person if you ask me, that should be held accountable for her words.

Puppypuddles.com
Specializing in Maltese and Teacup Yorkies
(315) 686 4081
Please note, that any email quotes that are posted on this page that are attributed to Sherry Andrews came to me with the full header and return pathway along with the original message and originating IP address tracing it directly back to Sherry Andrews.
Here are two taunting emails that Sherry sent to this breeder after she was asked to remove the slander Oct2, 2004.
Maria,
At least have the guts to confront me personally rather than in HIDING, like with fake email addys, so sad, you are one of THOSE breeders !!! But thats ok, the bb site is going BACK up, oh, you just might want to check my website.....lol......YIPPEE, just wanted you to be one of the FIRST to know...don't bother to reply, I have BLOCKED you !
have a nice life
Sherry
"Shershihtzus"

Maria,
I just want you to know that from this day on, I will NOT be visiting your site again. Post all you want about me, use my picture as you wish, it no longer matters to me. I have told my attorney to not send you a letter and I will not purue suing you although I would win!!! It is a waste of time to deal with such low class and low intelligence as you. I no longer will put trash on my site about you because you are NOT worth the time or energy. I get over 150 hits on my site a day, and when people want to know about good or bad breeders, I will tell them the TRUTH !!! SO do what you want Maria, many TOP breeders are laughing their butts off at your childish and wicked ways. So have fun looking a stupid as you are !!! and good luck trying to trash me, it will NEVER happen as my people know that you are the sick person, and please DO get help Maria, you really need counseling. Do not write back, I have blocked you and will NOT read an email from you !!!
have a nice life
Sherry

"good luck trying to trash me"

Here are more Sherry slanderous email quotes announcing her smear campaign for Maria...
From: Sherry Andrews "...once you are in ripoff, its there for life. Maria is next, I am going to ripoff to tell the world about her, she wants to be mean then so be it. I have people that have emailed me about her, I will tell them to share their story about her too....so please DO tell Maria, that she will be very popular too, on the ripoffreport !!!!!!!!!!!!!"
have a nice life
Sherry


"Shershihtzus"
"I am going to ripoff to tell the world about her"
From: Sherry Andrews " You two obviously want a fight, ok by me. I will make sites all over the internet, along with about 25 people that are willing to do the same. I will do as you do, and be very ugly about all of this. I took down the bb site in good faith, you have not been fair. SOOO guess we will fight as long as you wish, it only helps me anyway because of your bad reputations and since my reputation is flawless, I could not careless. Since you want this to continue in a bad light, I will most defintely contact you when ALL of the sites are completed. You will enjoy them I am sure. I will also send people to the ripoff report, and there, you will also see the stories of the both of you. Have a nice day ! "
Sherry


"Shershihtzus"
"my reputation is flawless"
More Judge and Jury Sherry Quotes about Maria...
"Marie is trash as far as I am concerned, she is very close to being a mill."



"GOOD people of course can send in a response, but these two are the scum of the earth, and I am told I have MORE letters coming in on Maria, make sure you tell her that she TOO, she will also be on the top of the list at ripoffreport"

"Marie should not be talking, her dogs are sickly looking and she does it for the money and not the love...."


"the people that CHOSE to make up LIES about me will pay.....its BS and MARIA is a major contributor to the problems. She has NO idea how to breed, what to breed, and her reputation stinks. She is in the category with yours truly from Vegas. I posted that letter about her on my site, because she won't quit, now I get almost 900 hits on my site a week, and people DO believe in me.....she is a bitch and a horrible breeder, that is my opinion, and I am sticking with it, her BROTHER the attorney can come to MICHIGAN to sue me, I will NOT stop."
Sher


"Shershihtzus"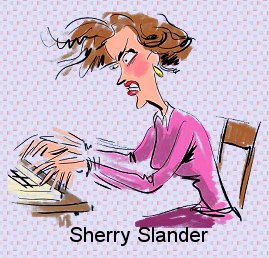 "I will NOT stop"

The following email and reply by Sherry Andrews was sent to me by one of Karen's customers. I think it illustrates perfectly what is being said about Sherry Andrews on this page. She sent Karen DeAngelo a written apology at Christmas time (2005) and promised to stop the slander. In my opinion, .the letter of apology was as phony as she is, she barely went a week before she was slandering Karen again on her website and on the "Bad Breeder" site that she created. Recently she is professing to have stopped the slander and taken down the "Bad Breeders" page. But look how she answers this person who emailed her...the reply is once again full of slander and lies that she cannot back up with real names because she made it all up. Furthermore, she is STILL slamming Karen except now she is doing it quietly to Karen's customers in emails instead of on her website. Read the following carefully ...........

From: Heather
Sent: Wednesday, January 25, 2006 6:09 PM
I read about you on the shih tzu bulliten board on yahoo and was shocked. I bought a shih tzu puppy from Karen DeAngelo two years ago and he was fixed before I got him. he does not have any problems with going pee like you state. I think that what you say about Karen DeAngelo is out of jealousy and I wonder why you portray yourself in that manner. No one cares what you think , don't you realize that. I see that you spend alot of time and energy attacking her and others by what has been written. I am especially disgusted that you would say anything bad about Glory Ridge they have the best shih tzu out there.
Heather
---
----- Original Message -----
To: Heather
Sent: Wednesday, January 25, 2006 6:29 PM
Sorry hon, but you are incorrect, I have received many of Karens customers (untrue) complaining about how she treats her animals and her customers, ( slander) I also have proof (lie/untrue) as to peoples dogs that were spayed and neutered by Karen and now have major problems (slander),

I am glad your dog is fine, but this does happen. Karen does not have the best, just last year she had dogs with renal displasia (attack to discredit) and I can give you the families name because he contacted me, his first name is Tony, ask Karen, I have emails from him if you want to see them ( slander) click here for what he really said.... so do get all of your information correct before you send emails like this one, and get educated also (insult)...she is a puppy mill ( slander and NOT what she says about Karen's beautiful dogs in her apology! click here ...good luck to you and I am truly glad your dog is healthy, many of Karens are not...(slander... then why did you want one so badly???)
Sherry Andrews

She waited a few minutes and then sent Heather a second email with more lies and attacks against Karen...see second email below.
-------------------------------------------------------------------------------------------------------------------------------------------------
Hi Heather,
You really need to know both sides of any story before you attack. There are things that you don't know, and things they are all lying about (we are providing proof of your lies and contradictions, you are NOT), but it just doesn't matter. If you see, I have taken everything down from my site, (she is slamming Karen behind her back now in this very email) and if you also read that I sent an appology to Karen at Christmas, she is the one that is not christian (personal attack) and has made fun of a sincere effort to stop this hatred ( slander, Karen never made fun of anything), I know myself that when someone appologizes to me, I almost always accept it ( But she still stabs Karen in the back). I also do know who sent Karen that condom and that letter (a breeder by the name of Donna Thompson from California, Sherry's best friend) , and if necessary, that evidence will be supeoned and it will prove where it came from and who sent it, the person is in California and she did tell me what she was planning when she did it, got that proof also. (she can't keep track of her lies, she says she knew nothing of it in her online confession and cell phone call to Karen) click here
So do find out both sides, you know very well that things can look worse than they are, and its time for this to all end, I tried to make peace (her phoney apology that meant nothing--click here), thats all I can do...take care now and I truly am glad your shihtzu is healthy
Sher
Sherry Andrews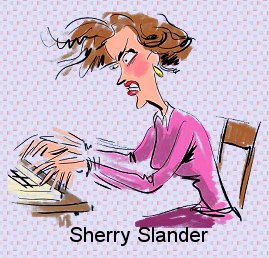 If you are thinking of getting a puppy from her, read this first. Are you up to the trauma, and are you willing to buy from a dictator????? This email is from a person who was sincere in her desire to buy a puppy (from Sherry Andrews of Shershihtzus) and give it a good home. Once again. Sherry is the self appointed judge and jury of all.
From: Carol Christopher
To: KarenDeAngelo@activatormail.com
Subject: My dealing with Sherry Andrews
Date: Sun, 22 Jan 2006 15:36:45 +0000
** This is my letter about what Sherry put me through**
Last year I was looking for a Shih Tzu puppy and Of course I seen Karen De Angelo's Glory Ridge website and immediately sent her a $25.00 deposit. Then I started back at work and lost contact with Karen.
So I searched online again for a puppy and seen Sherry Andrews web-page she made everything seem so great on there. I then filled out that EXTENSIVE online application. The last I seen someone was complaining that she is asking EMBARRASING questions and that it was too long! lol I thought I was adopting a human BABY. Then she wanted to see pictures of me and my family so she can know whose she selling too.
So at any rate she was really pushy and said that I need to keep in contact with her every week to month to make sure that I indeed wanted a puppy if NOT then she would TAKE me off her waiting list!
So I contacted her about a little boy on her page named Andy and she asked if I wanted him and I said yes. I was still secretly looking at Karen's Page there was just something about GR. I sent Sherry the money for the puppy 1060.00 which included 260.00 for SHIPPING and he was 800.00.
Then I began questioning her about the ONLY food that she MAKES you buy if you get one of her puppies. The food is NOT a puppy food but food for dogs of ALL ages. I DID not feel comfortable buying RICH food for a tiny puppy. She sent me an email back saying" On the questionnaire you SAID YOU would buy that food!" The food is like 40.00 a bag for a 20 pound bag. It's not a matter of the expense but I am also a mom too and I want to be able to either get to have a SECOND choice. The food is extremely expensive and to boot she is an INDEPENDENT SELLER of that food so she is making a PROFIT by selling that food. So of course it's the only food she RECOMMENDS because she makes MONEY selling it!
The next thing I know she starts on a RAMPAGE saying if I can't buy "GOOD" food then I can't AFFORD vet care! etc... I was pissed off and she said she wasn't sure if I should be buying a dog from her. We have LOTS of good foods but shouldn't we make the choices or should we let some control FREAK tell us that this is the ONLY food that you should buy! Now I had everything ready for him from his carrier bag down to his wee wee pads. I live in a city that has over 500,000 people so we have Vets EVERYWHERE! We have a excellent vet whose been a vet for 30 years and has passed the business to his son!
So I told her in a very LONG email that she should be ashamed of herself for canceling a puppy from someone who would give that puppy unconditional LOVE, a person who DOES work and who has a GOOD job that puppy would have had the world. At any rate I told her if she felt like that to send me back my money! I was questioning myself and said any puppy who lives here would have a wonderful life and who is she to judge or say what kind of person I am??
The next thing I know she put that incident on there in her questionnaire page saying "that she just canceled a full paid order because I wasn't being totally honest about buying that food that she is selling!" I was so embarrassed and OUTRAGED! Sherry Andrews is a CONTROL freak and if things don't go her way then it's the highway! She kept that incident on there for a long time. She did send me a check for the full amount of $1,060.00 BUT the humiliation and the controlling factor of her still haunts me to this day.
I contacted Karen De Angelo at GR and not only adopted ONE baby but also got TWO babies! Cappucino and Valentine! They are the most GORGEOUS babies I have ever seen! Not bad for someone who COULDN'T afford Vet care I have 2 GR babies!
I was NEVER ever humiliated Karen treated me WITH RESPECT and DIGNITY. I am glad to call her one of my FAMILY members. Her application wasn't long and DEMANDING she told you what foods to feed your babies BUT you can buy it ANYWHERE and at ANYTIME! Karen also gives you a CHOICE when they get older.
I work for the school district and am a 10 month employee so every now and then money does get tight but I am only human. One thing you can be sure of is my babies my human and fur babies will have the BEST of everything!!
Karen is TOP NOTCH as a matter of fact I have my babies on dogster.com and have met OTHER GR dogs by accident and they have NOTHING but POSITIVE things to say. Can Sherry say that? NOTTTTT! If you go to ripoffreport.com you can see the continually saga of Sherry Andrews!
Sherry Andrews is a control freak, unhappy and one of the MOST slandering individuals I have ever SEEN in my life. Her puppies and dogs are the worst I have ever seen. Yes I ALMOST got one but GOD stepped in and ENDED that NIGHTMARE he always KNOWS what's best!.
I am glad to FINALLY see a page about Sherry Andrews on here it's about damn time! Her time will come and you can use my name in it's entirety!! Keep up the great work and keep on exposing this devil!!
Carol Christopher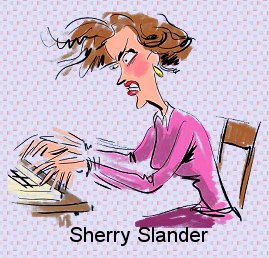 From: Anthony XXXXX
Date: 12/23/04 09:12:25
To: Karen DeAngelo/Glory Ridge
Subject:
Re: Sherry
i told sherry my story.. she went to far and i told her i want nothing to do with this. we have made an agreement. you have made a fair gesture to resolve our differences. i want nothing to do with sherry and i will post a updated message on ripoff report stating you have done everything you can to help myself and my wife through this difficult time. I am not here to distroy your reputation. I will fix the problem. sherry put words in my mouth.
"sherry put words in my mouth."


All statements in quotation marks are exact quotes from Sherry Andrews . .
All statements in red are my translation of her slanderous remarks and are my opinion.

1-29-06:"I will gladly sell some of my awesome dogs to a breeder as my dogs are of superior quality, health and temperament, but no offspring will ever be put in the puppy mill of Karen DeAngelo, nor will any of my pups go under her knife to cut the guts out of a 7 week old female." MY OPINION: The 20 year breeder Karen DeAngelo refused to sell her a breeding dog to improve her novice breeding program so she is now attacking her professionally and calling her a puppy mill.... oh and telling people she "cuts the guts out" is to impress upon you that she is hummm like a butcher you know?

04/30/04 09:40:54 " You have great dogs Karen, but you should really TRY to be a tad bit more compassionate. I have always wanted one of your dogs to breed, probably many have..." MY OPINION: She can't decide if Karen has great dogs or she is a puppy mill, ... nevertheless, she wants one of her dogs.

January 20, 2006....."..HA......and anyone that tears out the guts of a 7 week old pups is sick, as Karen is and obviously you are one of her followers. Karen is all over those bad sites like many breeders are. Those sites allow people to pose as people that that are not...and to use fake names and fake email addys mostly yahoo and hotmail well thats cyberspace.".....
MY OPINION: Sherry cannot make her point without inserting visually disturbing descriptions (tears the guts out) because she has no point to make...she goes for shock value and name calling to communicate in any disagreement that she has.

1-29-06:"The same goes with Elonda Womack, who takes her unwanted pups to shelters and has them killed, instead of finding them homes. This is a proven fact..." MY OPINION: Elonda pissed her off so now she is on her slander list too.....again, here is Sherry going for shock value and disturbing descriptions that are untrue and that she cannot prove in her efforts to slander another breeder.

1-29-06:"there is no way any of my babies will ever get into harms way of these two very unethical, unchristian, and dishonest breeders that have made up incredibly funny and untrue stories about me..." MY OPINION: They didn't give me what I wanted when I wanted it, so they must be what I say they are because I am the judge and jury of all...I am surprised that you find these stories incredibly funny, most people do not.

"My dogs, my customers, and my great reputation speaks for itself and there is nothing like my great honest references versus the ugliness that can come from fake emails and fake letters posted here in cyberspace by Karen and Elonda."MY OPINION: I will be glad to forward any ONE email with full headers of any quoted statement on this page to whoever wants to request to see this to prove that none of the emails on this page have been faked.

"..don't forget to ask for many references from the breeder you choose, and hopefully you won't get the unethical ones like Karen DeAngelo, and Elonda Womack which by the way has never had a litter....HA HA..." MY OPINION: Sherry has a hard time focusing on any one subject and like to throw in a little slander or cut in whenever she can...after all, to discredit another makes her a bigger person in your eyes doesn't it?!

"Linda Balogh also accused me of posting this above letter and writing it myself, guess thats what she is used to doing...lol... " MY OPINION: If I post slander by an anonymous writer and refuse to provide proof, how dare anyone possibly think I may have invented it myself even if I do put it on my opening page of my website.........in my own defense.

" I cancelled the sale of the dog to Carol because she could not afford vet care, food, had no car, and I felt was not financially able to care for the puppy, she wanted to feed my pups cheap food... I tried to explain the importance of good food to her,I spoke to deaf ears.." MY OPINION: It sounds like Sherry required Carol to buy her expensive puppy food and when Carol stated financial concerns, Sherry cancelled her puppy. (Carol bought TWO Glory Ridge puppies and is ecstatic with her decision and her puppies.) click here

"The more interest you show, the more likely you will be chosen to adopt one of my babies."
MY OPINION: she will judge you and if you don't measure up and beg enough for one of her puppies, then by George you don't deserve to be chosen to receive one.

1-29-06: "I have been asked to mentor certain people and have decided I will now do so to keep this awesome breed up to standards and to help new breeders learn the value of being ethical and honest." MY OPINION: Egoism is Self-Respect gone wild.

1-29-06:"These dolls are almost all grown up now, this is what high ethics and morals produce !" MY OPINION: Egoism is Self-Respect gone wild.

"I am not responsible for quotes or emails that I may use on my site sent to me by others, but I do reserve the right to state my opinion as free speech per internet law." MY OPINION: she takes no responsibility for smut and slander that she posts on her site against someone she is currently mad at, she is claiming her right to do this... so if it is not even true it is still not her fault because she only posted it and that makes her innocent right? OMG

"I soon realized that Karen also has one of the bad vets that do this. I posted things, negative things about this and about Karens lack of ethics on my website." MY OPINION: None needed, she says it all exactly like she did it. (Posted on her Bad Breeder website that she used to showcase attacks on other breeders)

"Last year sometime, a breeder by the name of Donna Thompson from California went on a rampage about Karen also. She and I became friends due to our anger at the things Karen does."

MY OPINION: It was getting lonely being the Slander Star so she looked around for a buddy who was as evil as she was and I found a soul mate friend Donna.

"Donna fought with Karen and Donna at that time, decided then that she wanted to get Karen back and to get even with her. Donna first asked me to promise to keep what she was about to do private, and I did. I then heard the unbelievable, Donna told me she had sent Karen a condom, and a letter about her nursing license being suspended and her husband having an affair. Donna is a licenced investigator in the state of California and although I did not like it, I knew Donna was going to get even with Karen. " From Sherry's "Confession.".. posted on her Bad Breeder Site.

"I did not want to break my promise to Donna, but this has gotten out of hand, and this is a very sick thing to do, and I had no part of this." MY OPINION: she pretended to not know anything about it because that way she could plead innocent and not be involved.

"Yes, I talked about Karens ways on my site, and yes, I totally disagree with her breeding tactics as I feel she has no morals, integrity, or ethics,"...MY OPINION: Like I said, she is the Judge and Jury of all...if she disagrees with what you do she will smear you all over the net.

"I can sleep at night, and truly tried to end this breeder war, but Karen has slandered me, and is now the best buddy of Elonda Womack who is being investigated by not only the police due to her threats, but the American Express Company for the fraud she has done." MY OPINION: Not only will she slander Karen but anyone who comes to her defense...and she will make up whatever it takes to create doubt and imply they are dishonest including being involved in illegal activity.

"I am glad this is all out in the open, and it does not matter one bit what is posted about me anywhere here on the net. " MY OPINION: The only thing being posted about you is the exact statements coming out of you. If you want this exposure to stop, then quit putting it (slander and libel) out there.

"I have the constitutional right to state my opinion and to name anyone to warn the public as far as a person that I know is either dishonest, acts illegally, or has broken the code of ethics for being a moral and decent breeder. I reserve the right to state my opinion, this is my site and therefore I am entitled to put any and all incidents on my site." MY OPINION: Since this is her cyberspace and she is the judge and jury of all, she will say whatever she wants about anyone that pisses her off and she will decide if they have broken the INTERNATIONAL CODE OF ETHICS as described by her which includes any practice she happens to not agree with...This statement from Sherry is posted on her home page of her website at the bottom.

"This breeder war is happening because I posted the truth about Karen DeaAngelo on my website. Karen does spay and neuter at 7 weeks old which is wrong in my opinion and in the opinion of 22 vets and universities, including Micighan State, and Purdue University. Linda and Karen are old friends, so they decided to try to runin me, sorry ladies, it won't happen !"
MY OPINION: First of all Sherry, this is NOT a breeder war that is happening. Here are the facts: no where has anyone degraded the quality of your dogs, no where has anyone attacked your home facility for breeding dogs to sell to the public, no where has anyone attacked your breeding practices...All of these elements are present in a Breeding War, which this is NOT. Granted, YOU have attacked the quality of several breeders dogs, and YOU have attacked other breeders kennel facilities, and YOU have attacked other breeders breeding practices, but your one sided attacks on other breeders does not make a breeders war. It just makes you a trouble maker. BTW, your opinion on early spay and neuter has no backbone behind it other than your undocumented claims. I cannot believe that you would cite your phone calls to 22 vets as your backing for your opinionated statements that you state as facts, which they are not. On the other hand, early spay and neuter practices are supported by many top authorities in the canine world...and these are DOCUMENTED

2-14-06: "The breeders that I mention, are in my opinion not good breeders, I have a right to my opinion and I never lied, but they have made up stories, falsified emails, and are evil. I guess I could do the same, and end up with the same site that they have, but the letters posted here will be true, and not made up."
MY OPINION: All emails posted here can be backed up with a real person behind it that actually posted it, and EVERY quote here from your "poison keyboard" can be documented with a return pathway and full headers from your personal computer.

2-14-06: "Karen does keep her dogs in tiny rabbit pens, this is also wrong , I do not believe in keeping dogs locked up in a tiny cage like that." MY OPINION: Glory Ridge Shih Tzu is a clean, sanitary, professionally equipped kennel and is licensed with the Missouri Dept. of Agriculture. Her kennel is inspected regularly by a competent inspector. She does not keep her kennel inside her house, because not only is it unsanitary, but it is not compliant with state laws pertaining to breeding kennels where you are breeding and selling puppies... ARE YOU in compliance with your state laws???? She has never kept any of her dogs in rabbit pens and to state that she does is untrue and libelous.

2-14-06:"My name is Sherry, and I am a home breeder in Southern Michigan. Most of you want to know where I am exactly, and as far as driving which I do a lot of, I am one hour south of Kalamazoo, or 90 minutes west of Jackson, one hour north of Fort Wayne Indiana, and 3 hours east of Chicago."
MY OPINION: Where do you really live and have your kennel??? At last count from your web site I counted 13 females and two studs with a 3rd on the way. That is 15 dogs with another one coming. What is really alarming is that the city of Kalamazoo only allows you to have THREE dogs, otherwise you are a commercial kennel and that means you have to abide by the laws. You know, laws about how you house your dogs (not in the house) and laws about inspections, and licenses etc...Now I know that your husband's name is Robert...and then I found this...is this you Sherry???
---
SHERRY L ANDREWS
Born Jun 1952
More Information on SHERRY L ANDREWS
268 PARCHMOUNT AVE
KALAMAZOO, MI
Verify with utility companies if this listing is current
www.ZabaSearch.com/ZabaWeb
-
Background Check

2-18-06: MY OPINION: I called Animal Control for the city of Kalamazoo, and I was told that
NO dogs are licensed with the city of Kalamazoo for this address and name.... Of course if your dogs were licensed with the city,... then they would know how many you had,... and then they would classify you like a pet shop or a commercial breeder......
"It shall be unlawful to own, possess, shelter, keep, harbor or permit to remain on or in a dwelling unit as that term is deemed in the City of Kalamazoo Zoning Ordinance (Appendix A of the Kalamazoo City Code) or on the surrounding lot or premises within the city more than three (3) dogs at any one time unless said owner or owners obtains a kennel license pursuant to state law, except that the owner of a female dog which has given birth to puppies may keep the dog and puppies for a period not to exceed three (3) months from the date of birth of the litter. This limitation shall not apply to a veterinarian or a licensed commercial pet shop."
http://www.legislature.mi.gov/(2brral4543h2mcjmmagsoyzw)/printDocument.aspx?objectName=mcl-act-339-of-1919&version=txt
"For the purposes of this act, a kennel shall be construed as an establishment wherein or whereon 3 or more dogs are confined and kept for sale, boarding, breeding or training purposes, for remuneration, and a kennel facility shall be so constructed as to prevent the public or stray dogs from obtaining entrance thereto and gaining contact with dogs lodged in the kennel. Any person who keeps or operates a kennel may, in lieu of individual license required under this act, apply to the county treasurer for a kennel license entitling him to keep or operate a kennel. Proof of vaccination of dogs against rabies shall not be required with the application. The license shall be issued by the county treasurer on a form prepared and supplied by the director of the department of agriculture, and shall entitle the licensee to keep any number of dogs 6 months old or over not at any time exceeding a certain number to be specified in the license. The fee to be paid for a kennel license shall be $10.00 for 10 dogs or less, and $25.00 for more than 10 dogs. A fee of double the original license fee shall be charged for each previously licensed kennel, whose kennel license is applied for after June 1. With each kennel license the county treasurer shall issue a number of metal tags equal to the number of dogs authorized to be kept in the kennel. All the tags shall bear the name of the county issuing it, the number of the kennel license, and shall be readily distinguishable from the individual license tags for the same year."



Does a breeder have hernias REPAIRED? If so, WHAT anesthesia does the vet use if it is so "lethal" as she claims.


Shouldn't a breeder KNOW the USDA LAWS for SHIPPING LIVE Animals, SUCH AS IT IS illegal TO SEDATE PUPS? Then WHY would Sherry state on her website that Karen DeAngelo drugs her puppies? Because she seeks to discredit and malign her.


Does a breeder have ANY PROFESSIONAL BREEDERS EDUCATION CREDIT HOURS to her credit? If she has none, then why would she attack another breeder who's practices differ from hers? Because she is ignorant, and she seeks to discredit and malign her.



Does a breeder KEEP UP with the LATEST articles on CANINE ADVANCES in DOG FANCY, DOG WORLD, and AKC GAZETTE? WHY does she quote OLD theories when NEW ones are readily available (such as her OLD March 2005 article on early sterilization, when a NEW research release was published FEB. 2006).?


Does a breeder think the laminate floors in her dog room will hold up with dog urine? I had a friend have to rip out her entire house when she was ordered to do so by the State inspector because it was "unsanitary" and harbored disease. The floor was ONE year old! But then if your home breeding kennel is not inspected, then this is not an issue.



Air purification is essential to good kennel operations. Does a breeder operate in her home. Do they SMOKE? Pups exposed to second hand smoke could be undesirable. Not to mention high humidity and ammonia pollution from urine. Stud dogs "mark territory" and she doesn't believe in confinement, so are these studs confined or free to urinate all they want all over the house.?


Are a breeders stud's DNA'd by AKC? If they are unconfined and "free", how does she know WHO breeds WHO?

She complains about Continental Airlines "RULES" that pups are NOT allowed out of the crate on a flight. These are the RULES for EVERYONE. WHY does she think she is DIFFERENT?

If a breeders dogs have such fabulous pedigrees, how come she never puts it on her website for all to see.?

Why is a breeder hiding behind a Post Office Box in Burr Oaks when they have lived in Kalamazoo the whole time they have been breeding shih tzu.?
It is my opinion that puppy "happy talk" is worthless to anyone purchasing a pup. A breeder who gives a post office box address is untraceable...uses a cell phone which is an unlisted number...If the county and the city have no business license for a breeder, and the breeder is NOT licensed by the State AG. the breeder answers to no one.

If someone is running an unlicensed kennel without inspections how can you even be sure the papers on their puppies are even accurate? No one would be checking the DNA of the studs. How can you have 15+ dogs in your house and not license them with the city????? By selling dogs online with a PO box from another town a breeder hides from city and state officials.





"I was willing to bury everything and have a fresh start, but do they really think I will sit back and let them lie, nope, sorry, not going to happen...lol...and then there is Elonda Womack, I have info on her too, and yes, I will help bring any breeder to light that is wrong. To lie is a sin, and to swear like Linda does, shame on you. Looks like your temper got the best of you both...Linda and Karen...lol...have a nice day, I know I will !" Sherry Andrews


2-16-06: "I will in no way screw you or take advantage of you in any way..."~Sherry Andrews home page
v. screwed, screw·ing, screws Slang-To take advantage of; cheat: screwed me out of the most lucrative sales territory

"I have the constitutional right to state my opinion and to name anyone to warn the public as far as a person that I know is either dishonest, acts illegally, or has broken the code of ethics for being a moral and decent breeder" ~Sherry Andrews home page



Illegal \Il*le"gal\, a. [Pref. il- not + legal: cf. F. ill['e]gal.]
Not according to, or authorized by, law; specif., contrary to, or in violation of, human law; unlawful; illicit; hence, immoral; as, an illegal act (like not registering your dogs and paying licensing fees); illegal trade (acting as a commercial breeder selling dogs without following state laws); illegal love. --Bp. Burnet. Source: Webster's Revised Unabridged Dictionary (1913)

..." this is what high ethics and morals produce"


~Sherry Andrews
Ethics--conforming to the accepted professional standards of conduct-NOT Sherry

mor·al (môr'əl, mŏr'-) morals Rules or habits of conduct, especially of sexual conduct, with reference to standards of right and wrong: a person of loose morals; a decline in the public morals-
NOT Relevant


Thought For the Day




Egoism is Self-Respect gone wild.




(SATIRE)
Shershihtzus.com...aka...Heavenstzus.com
Sherry Andrews new website is started using Hillcrest Bar and Grill for the registration...

Sherry Andrews new website is started using Hillcrest Bar and Grill for the registration...

Domain Name.......... heavenstzus.com
Creation Date.. 2006-02-15
Registration Date.... 2006-02-15
Expiry Date.......... 2007-02-15
Organization Name.... Hillcrest Bar and Grill
Organisation Address. 235 n. third st.
Organisation Address.
Organisation Address. Burr Oak
Organisation Address. 49091
Organisation Address. MI
Organisation Address. UNITED STATES

Admin Name........... Hillcrest Bar and Grill


Admin Address........ 235 n. third st.
Admin Address........
Admin Address........ Burr Oak
Admin Address........ 49091
Admin Address........ MI
Admin Address........ UNITED STATES
Admin Email.......... heavenstzus@yahoo.com
Admin Phone.......... 269-659-3756
Admin Fax............

Tech Name............ Hillcrest Bar and Grill

If you make a Bad Breeders page on this site, be sure and include yourself.!

Sherry's Quick Fix ...
after seeing that she is exposed!!! Compare her new page entry (right) to the old screen shot ! Her additional information connecting the 2nd website to the first was added within hours of it being reported here.


Old Screen Shot New Screen Shot
2-15-06 to 2-26-06 after 2-26-06